Where is the p-spot located?

The p-spot is the male g-spot, and it is located internally between the rectum and the bladder. A direct way to feel the p-spot is through the anus, about 6-8 cm inside the rectum usually.  It is a smooth, almond shaped gland, situated towards penis, away from the tailbone. Since it is located on the back of the anal wall, anal stimulation is often needed for prostate stimulation. Some may feel a need to urinate when stimulated there, this feeling is completely normal and the urge will pass after a while. The health benfits of stimulating the prostata are many. Increased blood flow can help to prevent prostata cancer and other imbalances. In addition, stimulation may deliver mind-blowing orgasms - so what is not to love about p-spot stimulation? The prostate has almost as many nerve-endings as clitoris. P-spot stimulation can possibly unveil a new world of pleasure. Stimulation of the prostate has nothing to do with sexual orientation, by the way.
Prostrate stimulation is easiest done with one of the many prostata sextoys in our assortment, with a slight curve at the tip.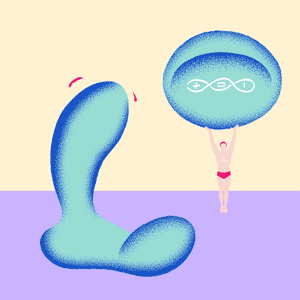 Prostata Massage
There are many wonderful anal massagers for men! Have you considered a prostate vibrator? It can be used both for solo play and with a partner to stimulate the "male G-spot"
Sex with a partner or solo?
Sex toys can be a great help to find your most sensitive spots. Here are some of our favourite prostata massagers.